What is a neck lift?
Also known as platysmaplasty, a neck lift is a popular cosmetic surgery procedure that improves the appearance of sagging skin around the upper neck and under the chin. It also improves the skin laxity under the jawline (known as "jowls"). This unwanted look on the neck is often one of the complaints of people with a fleshy neck. Some people who have neck banding, or more commonly known as a "turkey wattle", resort to this procedure as well.
What can I expect from a neck lift?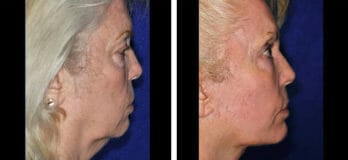 A neck lift can consist of different procedures to be able to achieve the patient's aesthetic goals. These procedures may include:
Removal of excess skin
Liposuction or surgical excision of the fat to reduce excess fat in this area
Thigtenning the underlying muscles in the neck
What can I expect during my neck lift consultation?
Your consultation with Dr. Totonchi will focus on the problem you want to be addressed. It is important that you go over your goals with the doctor in order to determine the options that suit your specific needs. During this consultation, Dr. Totonchi will also discuss the type of anesthesia to be used during the procedure.
How is neck lift performed?
In the presence of excess skin in the neck area, Dr. Totonchi may recommend a neck lift, which involves making incisions under your chin or in the area around the ears. At times, both areas will be incised to gain access to the platysma, a neck muscle to pull and thigten the muscle and also remove the excess tissue. Excess fat alsocan be removed using this access point to further improve the neck contour.
In patients with significant laxity, a facelift procedure is a great addition to the neck lift procedure and most of the time, combination of these is beneficial to maximize the results and improve the face contour as well.
What should I expect after my neck lift?
Patients who have undergone a neck lift usually experience swelling and bruising in the treated areas, particularly in the neck and in the lower face. These symptoms will take its toll on the third day but will fade thereafter. Dr. Totonchi usually advises his patients to take a couple of weeks off from work and other strenuous activities while they are still recovering.
For several weeks, the swelling may persist and you might not appreciate the results of your neck lift surgery yet. However, you should begin to see significant results after a week or so following surgery. These results may not last forever, as even cosmetic surgery cannot stop the effects of aging.