A facelift in our Cleveland plastic surgery clinic is a very effective procedure in removing loose and sagging skin that anti-aging creams and other cosmetic procedures just won't reach. Even with the introduction of other innovative cosmetic procedures, a facelift is still the anti-aging treatment of choice among our patients.
A facelift helps tighten the face and neck muscles to achieve a smoother and younger appearance. With the continuous improvement in cosmetic technology, a facelift can be tailored to fit both your individual health needs and cosmetic goals.
Why should I consider a facelift procedure?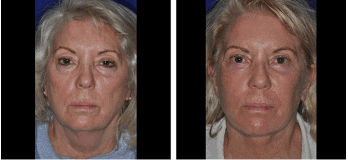 Over time men and women alike may become concerned with signs of aging such as facial wrinkles and sagging. A facelift may be the right procedure for you if you've tried other treatments without satisfaction for the following conditions:
Sagging around the middle of your face.
Deep lines and creases around your mouth or below your eyes.
Hollow cheeks or a loss of muscle tone.
Loose skin around the chin and jaw line.
What happens during a facelift procedure?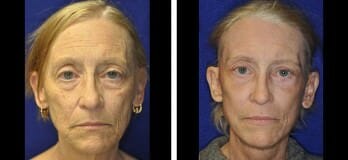 Also known as rhytidectomy, a facelift is one of the most common plastic surgery procedures in the country. A nicely executed facelift with no post-operative complications should make you look natural.
A facelift is done under general or light anesthesia in our Cleveland surgical clinic.
A traditional facelift incision begins in the hairline, continues around the ear and ends in the lower scalp, all of these incisions are placed in natural folds or hair line to conceal the scar, most of the time Dr. Totonchi used CO2 laser to further hide the final scar appearance. During a facelift, excess skin will be trimmed and will be sewn together to achieve a smoother and younger facial contour. In cases where patients have an excessive amount of fat especially in the neck area, fat removal and neck muscle tightening can be performed in conjunction with a facelift for optimal results.
How much down time should I expect with a facelift procedure?
After surgery you will have a drain on each side, Dr. Totonchi usually does not use bandage after his facelift procedures. Patients can expect the bruising and the swelling to subside a couple of weeks after the procedure. The recovery time depends greatly on the area where the lift was performed but patients can appreciate the results of a facelift almost immediately.
Facelift Surgery Results
A facelift has numerous benefits. For one, it reduces the appearance of sagging skin in the face and neck. A facelift tightens the skin and reduces the appearance of jowls. It can create a smoother jaw line and can help elevate the lower and middle cheek area. A facelift can also reduce marionette lines around the mouth and chin, and neck contour and loose skin condition can be improved.
Are there any risks associated with a facelift procedure?
A facelift is a surgical procedure, and therefore risks are always involved. Potential complications, while rare, include: scarring, bleeding, infection, hair loss at incision site, nerve injury or weakness, asymmetry, skin loss, numbness, fluid buildup, pain, and swelling.