What Is A Facelift?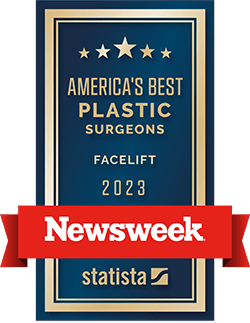 A facelift, or rhytidectomy, is a very effective procedure for the removal of loose, sagging skin on the cheeks and jawline that anti-aging creams and other nonsurgical cosmetic procedures just won't reach. Even with the introduction of other innovative cosmetic procedures, a facelift is still the anti-aging treatment of choice among patients.
A facelift helps tighten the face and neck muscles to achieve a smoother and younger appearance. A properly executed facelift provides you with a natural, younger, more youthful look. Thanks to continuous improvements in cosmetic technology, a facelift can be tailored to fit both your individual health needs and cosmetic goals.
Am I a Candidate?
Over time, men and women alike may become concerned with signs of aging such as facial wrinkles and sagging. A facelift may be the right procedure for you if you've tried other treatments without satisfaction for the following conditions:
Sagging, wrinkles, and fine lines around the middle or lower face
Deep lines and creases around your mouth or below your eyes
Hollowing of the cheeks, face, and neck areas
Loose skin and/or excess fat deposits around the chin and jawline
Loss of skin and muscle tone
Benefits of a Facelift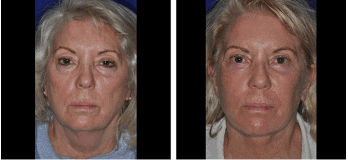 A facelift can turn back the clock 10-15 years, helping you look and feel more youthful. A facelift reduces the appearance of sagging skin in the face and neck, giving the face and neck a better shape and contour. A facelift reduces the appearance of jowls which creates a smoother jawline and elevates the lower and middle cheek area by tightening the skin and underlying facial muscles which also reduces the look of marionette lines around the mouth and chin.
At Totonchi Plastic Surgery, in Cleveland, Ohio, you will receive outstanding, personalized patient care supported by our premier plastic surgery team. Our team is dedicated to providing you with a positive and pleasant experience while attaining your facial aesthetic goals.
Types of Facelifts
A facelift is one of the most common plastic surgery procedures in the country. Results of a successful facelift should look natural.
A traditional facelift targets the mid- and lower face regions. Incisions begin in the hairline, continue around the ear and end in the lower scalp. All the incisions are placed in natural folds or the hairline to conceal the scars. Dr. Totonchi uses CO2 laser to further improve the final scar appearance. During the facelift, excess skin and tissue will be removed and tightened to achieve a smoother, more youthful facial contour. In cases which have an excessive amount of fatty tissue, especially in the neck area, fat removal and neck muscle tightening can be performed in conjunction with a facelift to give a defined submental cervical angle of the jaw and neckline.
A mini-facelift is less invasive and involves the placement of shorter incisions which extend from the hairline to the crease in front of the ear, extending to the bottom of the earlobe. The procedure is done using the same technique, except the amount of skin that needs to be removed and the area being tightened, is less. Dr. Totonchi will assist you in determining if a mini-facelift would be an option for you to achieve your facial rejuvenation goals.
A facelift is an outpatient procedure, performed under general anesthesia. Dr. Totonchi uses the SMAS technique which corrects the layer of connective tissue under the skin and on top of the muscle to lift and tighten the cheek, jawline, and neck separately. The SMAS facelift targets both sagging skin and the underlying musculature, and therefore has the most lasting results.
Your Initial Facelift Consultation
Dr. Totonchi will meet with you individually to discuss your aesthetic concerns. After evaluation of your facial structure and skin condition, he will discuss a facial rejuvenation plan. He may suggest a facelift in combination with other procedures such as a neck lift, fat injections, laser, brow lift or eyelid surgery. All options and combination of procedures will be discussed to choose an individualized treatment plan to attain your facial rejuvenation goals.
Once you have decided on a treatment plan, you will be given a detailed cost estimate for the options you discussed at your consultation.
Why Choose Dr. Totonchi?
Dr. Totonchi proudly serves Cleveland and its east and west side suburbs in Westlake and Lyndhurst and welcomes patients in his hospital base and private practice offices.
Here are just some of the reasons to consider choosing him for your procedure:
Board-certified plastic surgeon (American Board of Plastic Surgery)
Associate Professor at Case Western Reserve University's School of Medicine
Extensive training and experience in facelift, rhinoplasty, facial feminization, body, and breast surgeries.
Lectures nationally and internationally on these topics
Selected as one of the top plastic surgeons in the country by Newsweek
We recognize that you have many options when it comes to your cosmetic or plastic surgery needs. Your goals are extremely important; Dr. Totonchi will listen and help you understand how they can be accomplished. As a professor, Dr. Totonchi also understands the importance of education. He will take the time to help you set proper expectations, answer all of your questions and present you with the best plan possible for your procedure, giving you full confidence as you move forward with your decision.
Dr. Totonchi is also known for his treatment and care of children with issues ranging from facial deformities to cleft palates. He has also given relief to many patients who have suffered from migraine headaches.
Dr. Totonchi uses the SMAS technique, which corrects the layer of connective tissue under the skin and on top of the muscle to lift and tighten the cheek, jawline, and neck separately. The SMAS facelift targets both sagging skin and the underlying musculature for the most lasting results.
A traditional facelift incision begins in the hairline, continues around the ear and ends in the lower scalp. All of these incisions are placed in natural folds or the hairline to conceal the scar. During a facelift, excess skin will be removed and tightened to achieve a smoother and younger facial contour. In cases where patients have an excessive amount of fat and loose skin, especially in the neck area, a neck lift can be performed in conjunction with a facelift for optimal results.
Safety Information
A facelift is a surgical procedure performed under general anesthesia and therefore risks are always involved. Potential complications, while rare, include: adverse reaction to anesthesia, scarring, bleeding, infection, hair loss at the incision site, facial nerve injury or weakness, asymmetry, skin loss, numbness, fluid buildup, pain, and swelling.
Choosing a skilled surgeon expertly trained in facial plastic surgery, such as Dr. Totonchi, minimizes these risks. Take a moment to read reviews detailing real patient experiences with Dr. Totonchi and be sure to view his photo gallery for images.
Facelift Recovery
Dr. Totonchi will follow you closely during your post-operative recovery. He will provide you with a detailed post-op instruction sheet and a contact number to reach our plastic surgery team with any questions you may have during your recovery. Your first post-operative appointment is generally 3-5 days after surgery, depending on the procedures performed.
Dr. Totonchi does not use bandage wraps after his facelift procedures. Application of medicated ointment to all surgical incisions is started immediately after surgery. When you awake from surgery, you will have a drain bulb behind each ear to drain excess fluid, which minimizes the chance of fluid collection or seroma. The drains are generally removed at your first visit after surgery. Bruising and swelling are a normal finding after a facelift procedure and can be managed by sleeping in a semi-reclined position to keep the head elevated initially after surgery. Patients can expect the bruising and swelling to subside a couple of weeks after the procedure. The recovery time depends greatly on the extent of the facelift and the combination of procedures selected. You will be able to appreciate the results of a facelift almost immediately.
Plan 2 weeks off from work and social activities for recovery. You will have exercise restrictions for 4-6 weeks after your surgery, depending on the progress or your recovery and procedures performed.
Your Facelift Results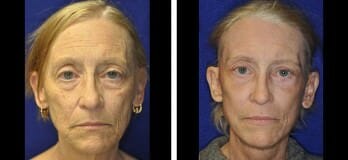 Dr. Totonchi is a board-certified plastic surgeon practicing in Cleveland, Ohio. He is dedicated to optimizing your surgical and personal experience and providing you with the finest results. Please view his before and after photo gallery of real patients and read reviews on RealSelf and Google. You will notice the premier service and care the moment you visit our office.
Proper skin care before and after a facelift procedure is essential to maintain your tight, youthful, vibrant appearance. A facelift procedure takes years off your appearance, but as you continue to age, your skin continues to stretch and loose its elasticity. Everyone ages differently; that is why there are many options to help you maintain your skin's radiant look.
Dr. Totonchi suggests laser or Morpheus8 treatments every 6-12 months to the full face, to help maintain your facelift's uplifting and radiant appearance. One of these lasers is Halo, which is a hybrid treatment laser. The hybrid laser has ablative and non-ablative technology, which lightly exfoliates the outermost layer of the skin while having deeper penetrating and tightening results to assist in maintaining an even skin tone, color, and texture while giving a smoother appearance to the skin. The combination of ablative and non-ablative wavelengths gives optimum results with little downtime.
Topical creams and moisturizers are another element in maintaining your youthful, radiant look. Products with Retin-A, a form of vitamin-A, are effective in treating the signs of aging such as wrinkles, dark spots, and loose skin. Retin-A helps firm and smoothen the skin by increasing the cell turnover rate, which gently exfoliates the skin and stimulates collagen formation. Moisturizing creams which are non-comedogenic should be used on the face to minimize poor blockage. Sunscreen with SPF of 50 is highly suggested to help combat the sun's damaging UV rays.
As the signs of aging continue, products such as Botox can minimize the dynamic wrinkles you see with facial movement. Botox works well in the glabellar area and around the eyes, which we call crow's feet. Dermal fillers or fat injection can fill in the hollows that may start to develop under the eyes, nasal labial folds or marionette lines. These products are useful for years after a facelift procedure to help keep a youthful facial appearance.
How Much Does a Facelift Cost?
A facelift varies in cost depending on the technique used and combined procedures chosen to obtain your aesthetic goals. A cost estimate will be provided to you following your initial consultation.
Non-Surgical Alternatives to a Facelift
NanoLaser Peel uses light energy instead of chemicals to instantly remove the upper layer of the skin called the stratum corneum. The laser gently exfoliates the skin and improves the skin's texture and tone to reveal a healthy glow. NLP can remove up to 10 microns of skin depth. This superficial skin rejuvenation has little downtime. Facial redness subsides in 1-3 days with gentle skin peeling noted. Good moisturizing is essential for facial recovery. We suggest frequent moisturizing for 7-10 days post-laser treatment. Sunscreen with 30+ SPF and containing a physical blocker such as zinc or titanium is essential for 1 month post-laser treatment. You may apply make-up in 2 days to mask any redness.
NanoLaser peels are a great option for those looking for a precise way to achieve a smoother, brighter complexion with the least amount of downtime. Most people require multiple laser peel treatments to obtain their desired result, spacing the treatments 6-8 weeks apart.
MicroLaser Peel is a minimal to full epidermal peel, depending on the micron depth chosen to achieve the desired outcome. MLP can remove up to 50 microns of skin tissue depth. The heating from the laser stimulates collagen, which makes it a better option than chemical peels and microdermabrasion. MLP has the ability to improve fine wrinkles, superficial scars, uneven skin tone, and sun-damaged skin. You will notice an immediate improvement in skin texture and firmness. This laser skin rejuvenation, also known as the weekend peel, causes intense redness and sloughing for 3-5 days. Good moisturizing is essential for facial recovery. We suggest frequent moisturizing for 2 weeks post-laser treatment. Sunscreen with 30+ SPF containing a physical blocker such as zinc or titanium is essential for 1 month post-laser treatment. You may apply make-up in 3-4 days to mask redness.
ProFractional laser penetrates the skin more deeply by ablating narrow channels deep into the skin to promote collagen remodeling, which improves overall skin quality and radiance. This type of treatment leaves the surrounding tissues intact for rapid healing. ProFractional laser resurfacing helps improve the look of scars, increases collagen production, decreases pore size, lightens age spots, and improves the appearance of sun-damaged skin. This laser skin rejuvenation generally causes intense redness and peeling for 5-7 days. We suggest frequent moisturizing for 2 weeks post-laser treatment. Sunscreen with 30+ SPF containing a physical blocker such as zinc or titanium is essential for 1 month post-laser treatment. You may apply make-up in 3-4 days to mask redness.
MicroLaser Peel with ProFractional Laser Resurfacing
Many people choose a combination of the MLP and ProFractional laser. The MLP gives the face a full field treatment resurfacing to the outer layer of the skin for a radiant and vibrant appearance while the ProFractional laser remodels the underlying tissue by stimulating collagen formation. The combined treatment does not add any additional downtime to the MLP.

Facial laser rejuvenation, if started early, can help keep your skin youthful and vibrant. When laser treatments aren't enough to give you the aesthetic results you are trying to achieve, Dr. Totonchi can discuss with you other options to obtain your goals, such as fat grafting or facelift.
Facelift FAQs
How old do I need to be to have a facelift?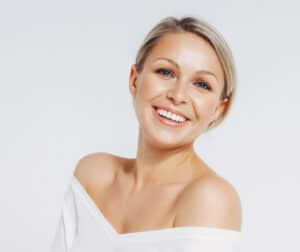 Genetics, sun exposure, smoking, and skin care can all play significant roles in how fast signs of aging appear on your face and neck. While most facelift patients are in their fifties and sixties, it is not usual for patients to seek care sooner or later than that age range. Skin laxity is a more important factor than your age when determining your candidacy for facelift. If you are in good health and want to make cosmetic improvements to your face, schedule a consultation to confirm your candidacy.
Are facelift results permanent?
A facelift procedure cannot permanently stop the aging process. Eventually, signs of aging will resurface, though you will continue to look younger than if you had never had surgery at all, so in that sense, results last forever. When performed by an expert plastic surgeon, facelift should produce results that last over a decade, particularly if you take care of your skin (moisturize and protect from the sun) and complement your surgery with periodic minimally invasive procedures.
How is facelift different from neck lift?
Neck lift exclusively focuses on making improvements to the neck. Most of the facelift surgeries that Dr. Totonchi performs incorporate elements of neck lift since the neck is one of the first places to show signs of aging. If your lower face still looks young with minimal jowls, you may be a good candidate for neck lift rather than facelift. Dr. Totonchi can offer his professional opinion as to which procedures will best achieve your cosmetic goals during a consultation.
Can I expect natural-looking results?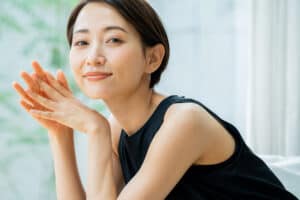 We believe in natural plastic surgery results. The best facelift is one that is not causing over-pulled skin at the corners of the mouth Dr. Totonchi utilizes an approach that focuses on lifting and tightening the underlying tissue and muscles (known as the SMAS) to recreate youthful contours without making the skin appear unnatural.
Am I a good candidate for mini facelift?
When patients initially hear about mini facelift, many understandably find the prospect of a less invasive procedure with a shorter recovery period to be appealing. However, you should be aware that mini facelift is usually reserved for patients with early signs of aging, primarily jowls, on the lower face. If aging is visible on the neck, it usually makes sense to address that area, too, for a youthful, natural appearance.
Is facelift performed the same for men and women?
Unless instructed otherwise by the patient, Dr. Totonchi adjusts his approach and techniques depending on whether he is performing facelift on a man or a woman. This is necessary because the characteristics that make a male or female face attractive can be quite different. For women, Dr. Totonchi strives for smoother skin and a soft neckline. For men, Dr. Totonchi focuses on creating a jawline with sharp definition to enhance masculinity, while lines and wrinkles are less important since they do not detract from overall handsomeness. Fortunately, Dr. Totonchi has ample experience treating men and women, achieving artful, natural results for both genders.